Harrow New Civic Centre
An inclusive civic quarter for Harrow Council
In a prominent high street location in Wealdstone, this scheme aims to marry public and civic spaces to promote Harrow Council's values of community and civic inclusivity.
The proposal forms the centrepiece of LB Harrow's £1.75bn town centre regeneration strategy and is considered with a wider set of linked sites including our residential scheme, Byron Quarter.
The design process involved extensive public consultation with the local community. Over the course of the design public workshops were held where members of the public were invited to respond to a number of questions. The resulting scheme is born from aspirations of both client and community, reinstating civic pride of place to central Harrow.
The strategic relocation of the civic centre will bring around 1000 council workers back onto the high street, stimulating the local high street economy and public realm improvements. In addition to providing public services and an inviting café on the ground floor, later phases of the civic masterplan will deliver around 100 dwellings and a replacement Gurdwara on-site, further integrating the civic campus into the community of Harrow.
The site currently connects poorly to the surrounding streets with little active frontages. The reorganisation of the site will reconnect the high street to Peel Road leading to Byron Park in the east, while public realm improvements will provide new pedestrian and cycle connections to the wider area. Main entrances along pedestrian routes will create an active frontage and reinforce the council values of openness and inclusivity. Considered public realm and landscaping further reinforce these values, with inviting spaces to sit and pause around the site.
It's challenging to make such a scheme work so efficiently on a tight site, with a tighter budget, and keep quality high – we are excited to see our new centre evolve.

Tobias Govert, Head of Regeneration and Design, LB Harrow
Harrow Council are committed to dynamic working practices that will improve the delivery of integrated public services and benefit employee wellbeing. The development will deliver five floors of flexible, open plan workspace to serve the current and future requirements of Harrow Council. The plan deliberately allows for sub-division of floorplates, providing the Council with flexibility over use and tenure to maximise long-term return.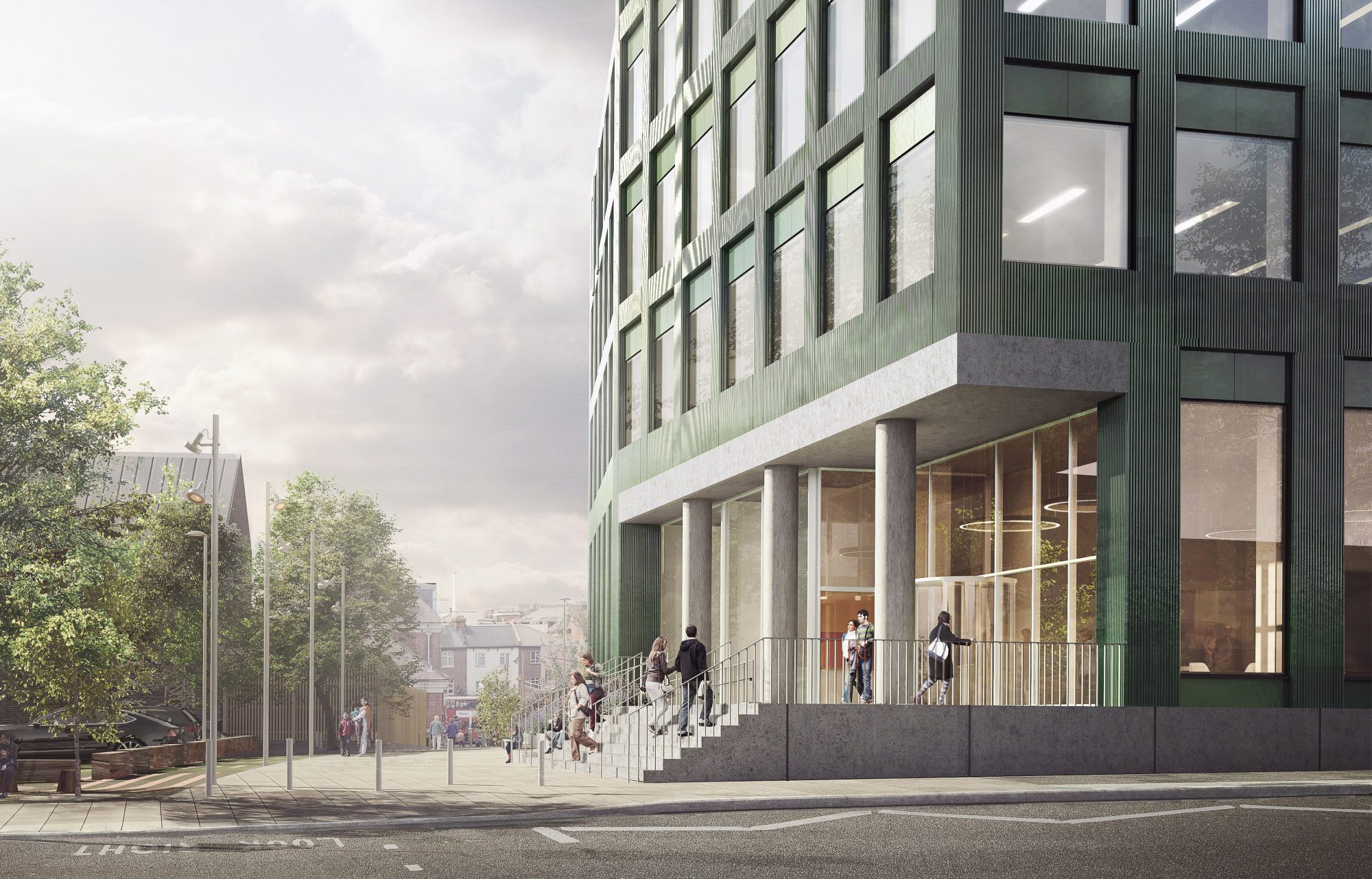 Further information
Data
Location

Wealdstone, Harrow

Project type

Budget

£52m

Status

In progress

Floor area

11000m2
Credits
Client

London Borough of Harrow

Gort Scott

Collaborators

Allies and Morrison (collaborative architect), We Made That (public realm), Daisy Froud (engagement), Peter Brett Associates (structural engineer), Peter Brett Associates (M&E), Graham Harrington (planning consultant), Faithful & Gould (QS), Picture Plane (visulisations)
Keywords